"

The crooning vox and air of sophistication... [makes] me think of artists like 80's Joe Jackson in the way Fake Frank blends genres." - Robb Donker Curtius
"

Their music is fun and something I would want to hear live. The vibes are loose and encourage a good time in a Vampire Weekend type of way... the sound is undeniably catchy and well written." - Jamie Funk
About
This high-energy indie rock band from New York has an affinity for syncopation, extended chords, and overdriven guitars. Raised on The Smiths, they often write angsty lyrics, but their music is ironically fun. Fake Frank's other influences include The Police and Nirvana. It is no surprise that their music has drawn comparisons to 80s and 90s alternative rock in addition to ska.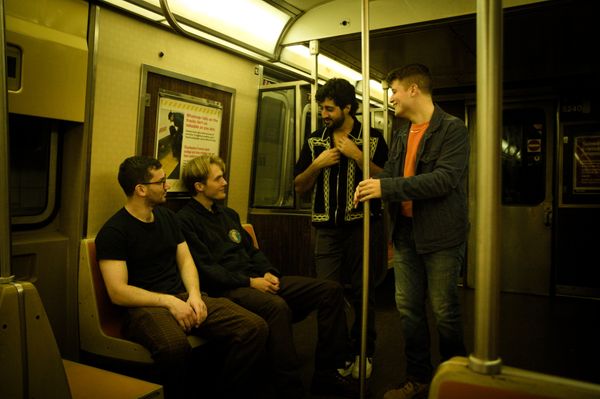 Short Bio
Fake Frank was founded by singer/songwriter Dan Masotti and drummer Harrison Kravis.  The duo started recording for their debut album before heading to college in 2016.  Their ska-influenced single, "It's All In My Head", caught the attention of critics and in March 2017, Deli Magazine named Fake Frank "New England's Emerging Artist of the Month".  In early 2018, they finished and released their self-titled album.  
After a brief hiatus during its college years followed by more than a year of self-quarantine, Fake Frank returns with Desmond Smith on bass and Robbie Woll on guitar.  In the past year, the band has energized audiences in New England, upstate New York, Philly, and the greater NYC area.  Their new music demonstrates maturity as well as an appreciation for raw, stripped-down orchestrations.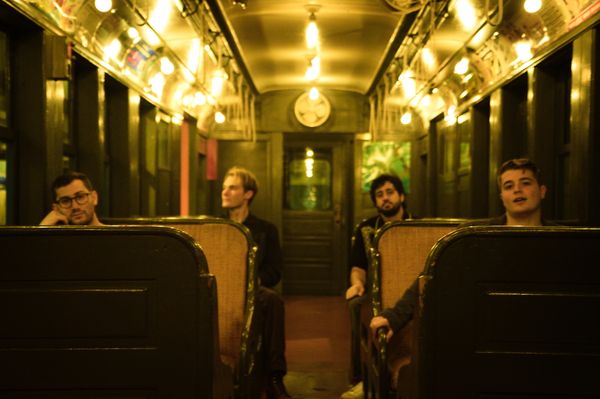 Long Bio
At South Side High School on Long Island, seniors renamed their friends' freshman doppelgangers by taking the senior's name and prefixing it with "fake".  For example, Dan Masotti (vocals/rhythm guitar) had a similar face to varsity wrestler Frank, so Dan's name became "Fake Frank".  Anytime Real Frank's friends caught Dan in the halls between classes, they'd yell out, "Fake Frank!".  But he took it in stride and owned it.  In fact, Dan used Fake Frank as a placeholder band name when starting a musical project with the demos he accumulated from middle school. 
That year, Dan recruited long-time jamming buddy Harrison Kravis (drums), who was previously in his jazz fusion garage band.  The two played with several lineups during the Fake Frank's early years.  In August 2016, Dan and Harrison spent savings from their summer jobs as cabana boys on studio time before heading to different colleges in the Fall.  By Spring 2017, Fake Frank released three singles.  The songs were well-received by the small following of family and friends that heard them.  The songs also caught some online attention from Twitch streamers who wanted to include them on their gaming playlists, a few college radios, and most notably The Deli Magazine, which named Fake Frank "New England's Emerging Artist of the Month".  The duo excitedly returned to the studio and recorded the rest of their debut album the following summer.   
Fake Frank played out in Manhattan and on the Island as much as they could during school breaks.  In 2018, the band released their debut, self-titled album which was met by some positive press coverage.  That Summer, they set up a DIY tour in the Northeast to support it.  However, Fake Frank couldn't sustain much of the momentum because of the physical distance between its members and their academic commitments.  They would go on hiatus after releasing their cover of David Bowie's "Ashes to Ashes".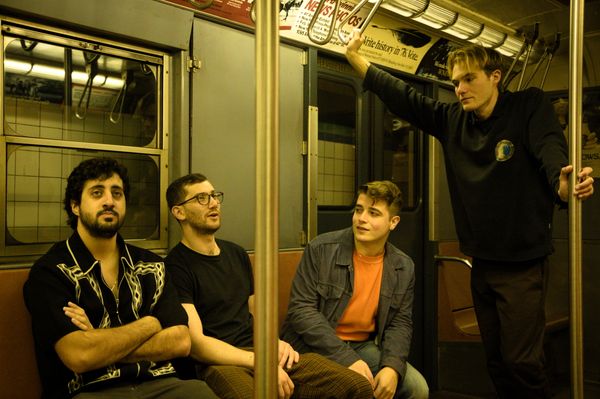 In Summer 2019, Harrison invited fellow cabana boy Robbie Woll (lead guitar) to casually jam with Dan.  The three hit it off as they shared an appreciation for cool chords, absurd humor, and jammability.  They booked a couple shows in the Fall as Fake Frank.  After energizing 300+ college kids with original indie rock music at a basement Halloween party, the band was excited to play another party during Spring break 2020.  Unfortunately, it was canceled because of the pandemic and it wouldn't be until Summer 2021 that the band met in person again.      
In August 2021, Desmond Smith, a fan and friend of the band since high school, heard about an opening, learned bass, and successfully auditioned by ripping the bassline from "Tangled".  On September 10th, friends and fans of the band came in droves to welcome back Fake Frank at Heaven Can Wait.  Since then, the band has been doggedly playing out at DIY venues and bars anywhere driveable from Brooklyn in a day.  
They are especially excited to share "I Don't Believe It's True" because it is the first time that this lineup has recorded together.